Previously I discussed the central role KL's rivers played in the city's initial urbanisation process. In this post, we'll delve into its publicly-perceived role as KL's waste drain.
Present: 'What river? That's a drain!'
What happens when the the modern city no longer needs its natural conduits for transportation of goods and people, or agriculture? Its physical properties can become something to be managed in cities' efforts to avert floods. Here, Professor Simon Haslett gives an in-depth introduction and discussion of KL's engineered rivers (indeed a cyborg on its own):
It has also become a natural conduit for transporting waste. Documentarian Mahen Bala showcased this in his photo-essay. Another writer puts it well:
"The Klang river now resembles a humongous concrete drain with murky waters classified as "not suitable for body contact". The river's fame lies in their filth. It is regularly used as an open sewer and rubbish dump."
Jagedeswari Marriappan (2016), who runs the River Care Programme at the Global Environment Centre, implied the human intent and urban design that manufactured this outcome:
"They changed our river to look like a drain so people stopped thinking of it as a river."
The water waste channel
It is interesting to note how the natural flow of water has converged with the human-produced flow of waste. In our UPE lectures on waste, I learnt about how the management of waste has necessitated human-constructed, unnatural infrastructural networks that collect and transfer waste generated from all around the city. One of the main theme that stood out was how such engineering feats enable the invisibility of waste processes, further enabling modernity's construct of an ordered city.
KL's residents, in conveniently dumping their waste into their rivers, ignore the provisions by the separate, non-natural networks precisely engineered for the purpose of waste management. This isn't amusing if you think about the health and environmental consequences involved, but if actions carry signals and messages about intent, I'd imagine the conversation between KL's residents and planners to go along the lines of this –
Planner: 'Hey, we spent a lot of money and effort into building this really effective waste system so you don't have to deal with the dirt and smell around you -"
Residents: 'Nope the drain's good.' *throws rubbish in*
Planner: 'That's…not a drain.' *to other planners* 'Oh no we probably have to make that river look like a river again what have we done??'
And thus the muddy confluence became a dirty confluence: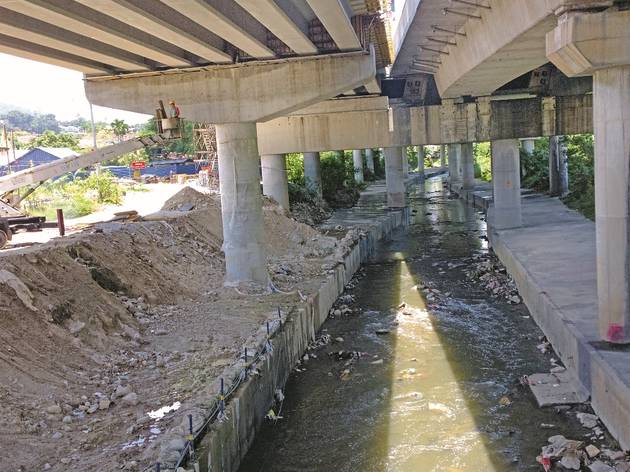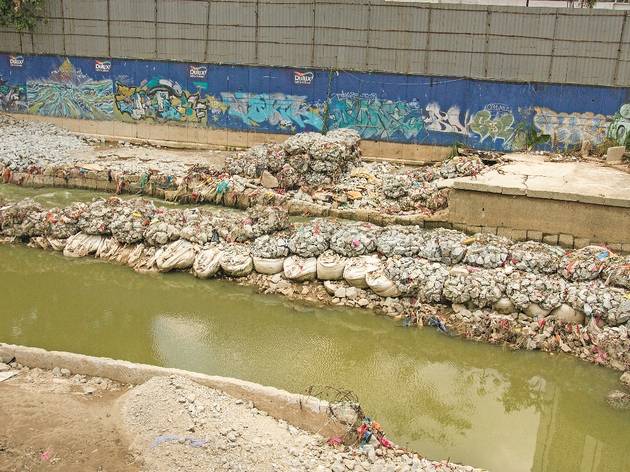 I guess this presents a few questions for reflection on the socio-natural state (Graham and Marvin, 2001) of infrastructural/natural networks in cities: How does urban engineering and design shape socio-cultural perceptions of urban waterways? How do these perceptions then shape people's interactions and relationships with the waterbody?
Furthermore, if it is indeed preferred for waste in cities to be invisible, I think KL-ites choice to dispose waste in their rivers is indicative of how 'invisible' these river features are likewise in their everyday life. To put it bluntly, the kuala lumpur that gave life to the metropolis today is now invisible and disregarded by the inhabitants it sustains.
[411 words]
Read more from my sources:
Bala, M. (2015) 'Rivers of Kuala Lumpur: Portrait of a silent river'. Retrieved 28th November 2017 from https://www.timeout.com/kuala-lumpur/things-to-do/rivers-of-kl-portrait-of-a-silent-river.

Thor, K. H. and H. Hussain (2017) 'Down a river of lives, fish, fowl, and foul'. Retrieved 28th November 2017 from https://www.themalaysianinsight.com/s/14846/.

The Star Online (2016) 'Giving a new lease of life to KL's historical Klang river'. Retrieved 28th November 2017 from https://www.thestar.com.my/news/nation/2016/03/27/giving-a-new-lease-of-life-to-kls-historical-klang-river/#jHj7Z1L0JosSiisp.99.

Graham, S. and S. Marvin (2001) Splintering Urbanism. London: Routledge.